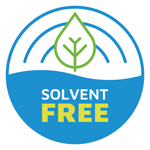 After many years of international experimentation, water-based products (being solvent-free) are just as effective as solvent-based products and, indeed, often the general characteristics of these products are even greater than solvent-based versions.
When assessing waterproofing materials, water-based products – not containing any flammable materials – are the safest and most environmentally-sound choice for professionals.
They have virtually no environmental impact, given that the emissions of harmful volatile substances into the air are reduced to a minimum. They can also be used indoors without posing a threat to anyone's health during application or throughout their useful life, as well as having the advantage of being fast drying in principle (meaning reduced processing times).